The Mamaison Residence Izabella Budapest offers all the benefits you love. Its location in the centre of the Hungarian capital, its stylish ambience with special attention to the comfort of its guests and, of course, the high standard of service.
Behind the 19th⁠⁠⁠-⁠⁠⁠century stone walls, you'll be surprised by the facilities of a modern four⁠⁠⁠-⁠⁠⁠star hotel. Suites with one to three bedrooms and a kitchenette. Gym with sauna. Our staff always ready to fulfil any of your wishes with a smile.
The famous Andrássy Avenue, with its cafés, galleries and shops, is just around the corner. You'll find historic buildings and stylish bistros, bustling boulevards, as well as quiet city parks in the immediate vicinity.
Most of the 38 spacious apartments were completely renovated in 2022. Accept our invitation and experience for yourself why the Residence Izabella is the right choice for your stay in Budapest.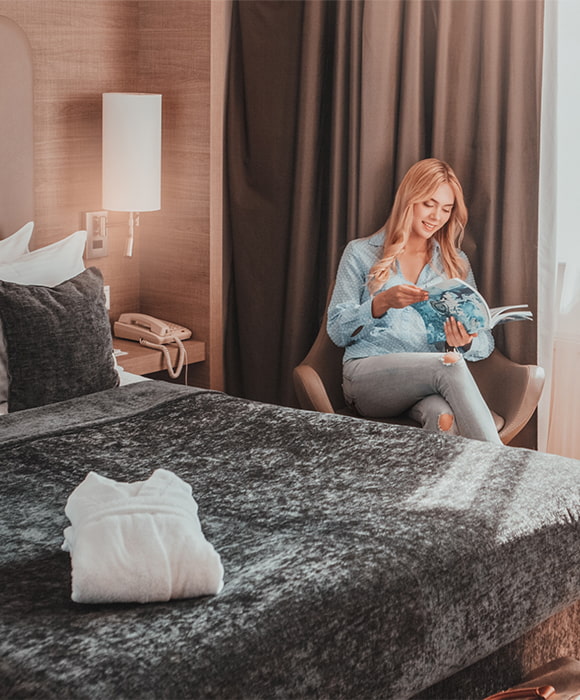 Check⁠⁠⁠⁠⁠⁠⁠⁠⁠⁠⁠⁠⁠⁠⁠-⁠⁠⁠⁠⁠⁠⁠⁠⁠⁠⁠⁠⁠⁠⁠in ⁠⁠⁠-⁠⁠⁠ Need to arrive early? Please let us know. Our reception is available 24/7.
Check⁠⁠⁠⁠⁠⁠⁠⁠⁠⁠⁠⁠⁠⁠⁠-⁠⁠⁠⁠⁠⁠⁠⁠⁠⁠⁠⁠⁠⁠⁠out ⁠⁠⁠-⁠⁠⁠ Sometimes more time is needed. We will be happy to accommodate you. Just let us know in advance, please.
---
Whether you're on holiday or travelling for work, we're here for you. You can approach our staff with any request. Try our services to make your day more enjoyable.
Buffet breakfast
Room service from 12 p.m. to 10:30 p.m.
Concierge
Free Wi⁠⁠⁠⁠⁠⁠⁠⁠⁠-⁠⁠⁠⁠⁠⁠⁠⁠⁠Fi
Children's corner and babysitting
Gym and sauna
Massages
Underground garages
Suites with 1⁠⁠⁠-⁠⁠⁠3 separate bedrooms
Fully⁠⁠⁠-⁠⁠⁠equipped kitchenettes
Taxi service
Small pets welcome (extra charge)